The inbound campaign by Osaka and Wakayama prefectures and the JIEDO and iClick teams received a great response.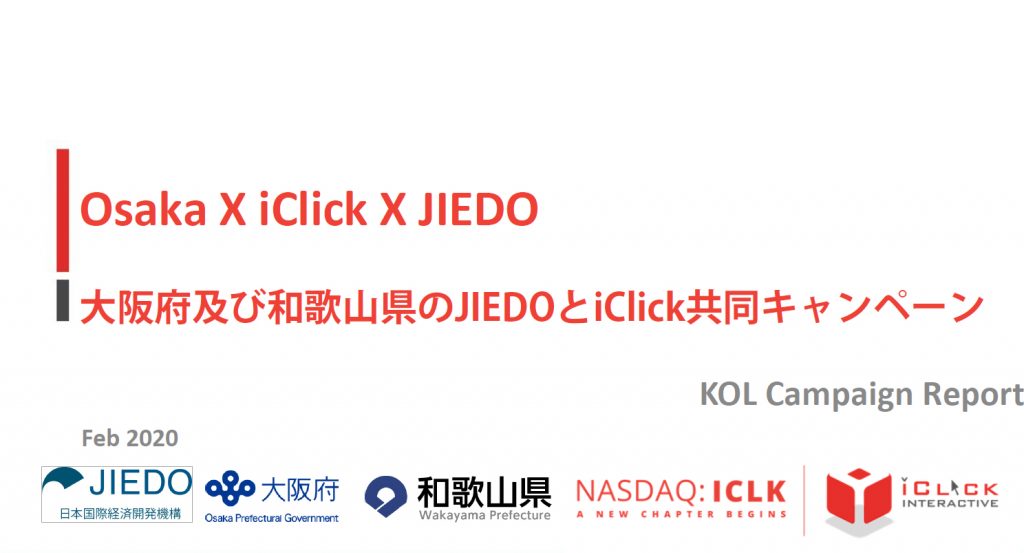 April 8, 2020-China's independent online marketing and enterprise data solution provider iClick Interactive Asia Group Limited ("iClick" or "Company") (NASDAQ: ICLK) today announced the results of its recent partnership. In collaboration with Japan's JIEDO (Japan International Economic Development Organization), iClick's multi-channel network and KOL marketing strategy will be used to attract many Chinese tourists to the southern Kansai region, where travel is relatively low. Assisted. The campaign lasted from January to February 2020 with great success, achieving 197% of the engagement guarantee level in two months. The campaign achieved a total of 49,845 engagements (defined as the total number of likes, comments, and shares), well above the guaranteed engagement of 25,250, and received more than 2 million views.
JIEDO chose to partner with iClick because of its intimate knowledge of digital marketing in China. iClick varies for engaging with potential travelers, including content-centric platforms such as RED (also known as "Xiaohongshu"), Weibo, Douyin, and more travel-specific platforms such as Ctrip. Chinese social media recommended. Next, iClick has selected several online influencers (known in China as "key opinion leaders" or "KOLs") to facilitate travel in the region. iClick has worked with influencers to create custom content based on client requirements, such as travel itineraries and video content, which are common formats for Internet travel content in China. This reflects the fact that 80% of Chinese internet users are streaming videos on their smartphones. Holiday car rentals were also strategically promoted by influencers due to the underdeveloped transportation system in the region.
"We are pleased to have designed and implemented this bespoke marketing campaign for the municipalities of Osaka and Wakayama," said Jian's "T.J." Tan, CEO and co-founder of iClick. "This initiative perfectly demonstrates how iClick can deliver value to foreign companies and institutions by helping iClick connect with Internet users in China in a very attractive way. Our KOL As our marketing strategy continues to win the reputation of new clients, we look forward to a unique customizable solution that will drive a greater share of our marketing budget from the brands we work with. "