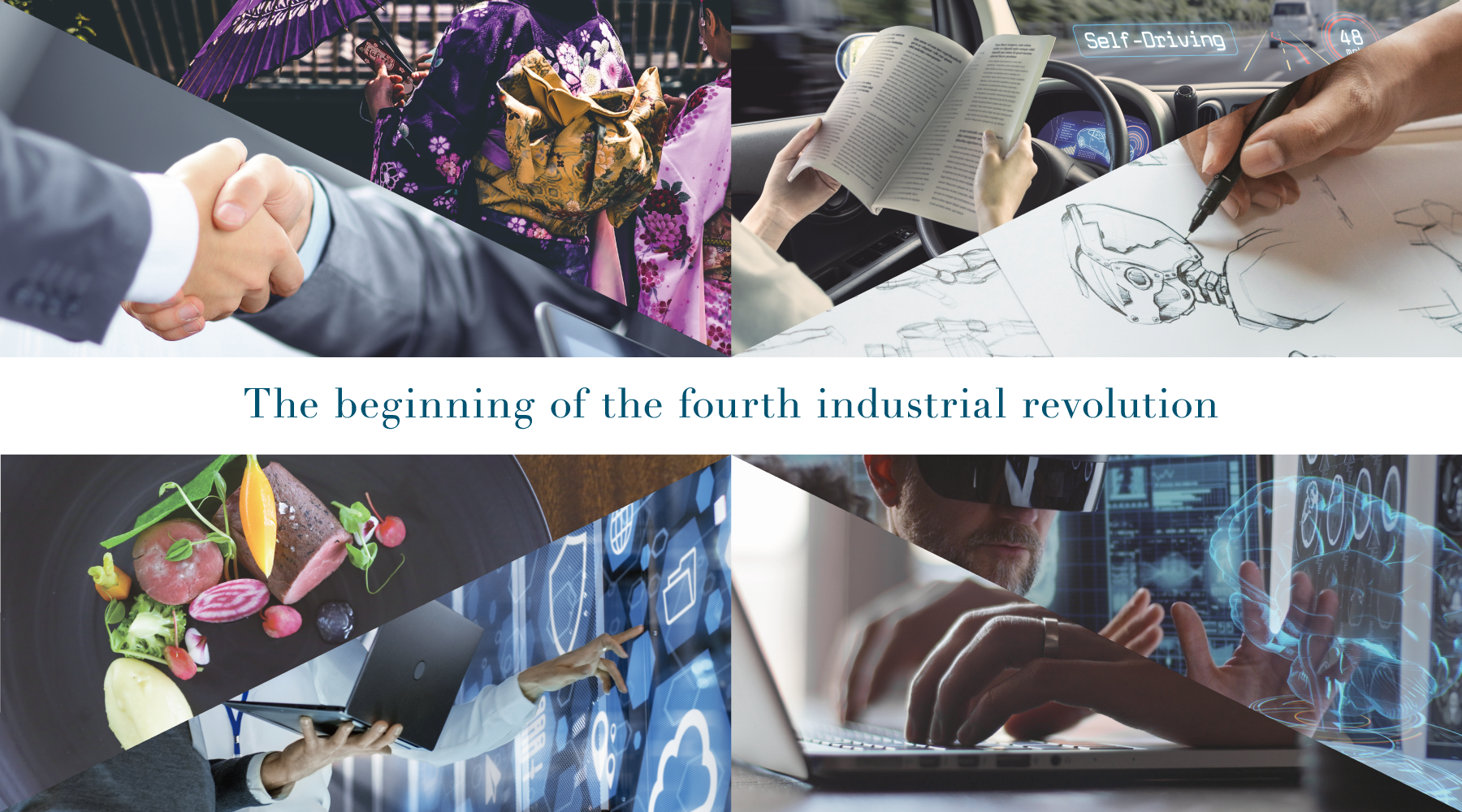 「 The dawn of the fourth industrial revolution 」
When the 5G operation begins and AI and IoT accelerate,
so
much innovation will occur in every field and placein the world in the 2020s.
This will drastically change the
form of industry and the way society exists so much
as to be called the fourth industrial revolution.
Isn't it necessary for companies and industrial and economic
sectors to respond quickly and boldly to the globalism of
this innovation without being bound by existing concepts?


 Entering in the 2020s, society has been drastically changing. Digital technologies such as AI(artificial intelligence) and IoT(Internet of Things) have been remarkably developed. Ultra-high-speed next-generation communication 5G(5th Generation), whose operation is finally in full swing, will dramatically promote these digital technologies. And there is a high possibility that not only lives of people but also their social structure will be changed. The changes we will see in industry and society in the next decade are probably expected to have an impact, comparable to the past industrial revolution, and could be called the fourth industrial revolution.

On the other hand, looking at Japan, its economy still remains in an ultra-low-growth era, called "lost 30 years'' after the collapse of the bubble economy. In the meantime, the Asian economy including China, Southeast Asia and India has rapidly grown. In 2010 GDP in Asia was only about 60% of Japan's GDP, but is estimated to increase to 2.3 times that of Japan by 2020 and 10 times by 2030. Companies in Japan used to focus mainly on the domestic market until the number of tourists coming to Japan approached 40 million and finally began to pay attention to the increasing inbound demand. However, if we keep just looking at future growth forecasts for Asia and do not respond flexibly and speedily to globalizing changes in the market, we may be left behind alone in Asian.

Between 1980 and 1990 Japan swept the world chiefly in the manufacturing industries such as automobile and home appliances to become the second largest economy in the world. However, with the spread of the Internet, the world's leading role is shifted to GAFA(Google, Amazon, Facebook, and Apple). Recently, BATH(Baidu, Alibaba, Tencent, and Huawei) has rapidly risen in Asia and now threatens to replace GAFA. On the birth of the fourth industrial revolution, corporations are rapidly advancing top-to-top collaboration across the globe and launching on new businesses and services, but Japanese big corporations are getting behind due to complexity and slowness in their decision-making.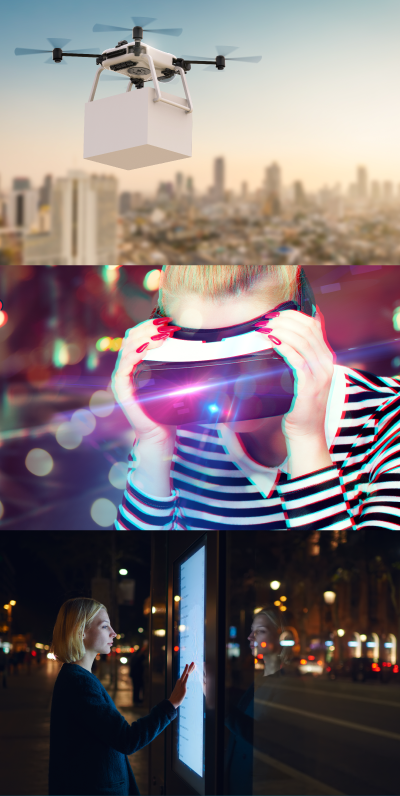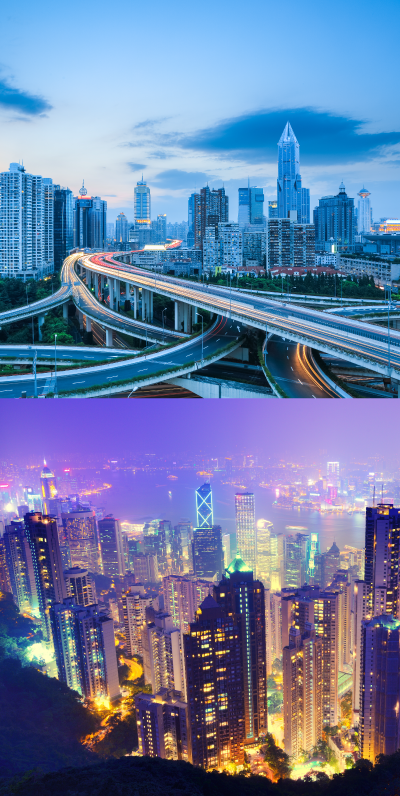 In a rapidly changing society, a changing industrial structure in the world, and a rapidly growing Asian market, Japan is experiencing a decrease in population and higher distribution of aged with a declining birthrate and increasing aging population. The globalization competition is gradually pushing Japan behind the world stage. The challenge Japan faces now is how we can compete and take a leading position in the global market in order to grow further.

In fact, Japan has a unique culture to be proud of. Japanese traditional culture and traditional performing arts, local unique culture that deeply rooted in the region, food culture such as washoku and ramen, animation and fashion, subculture and art, service culture typified by the word "hospitality". Japanese culture including IP (Intellectual Property) is highly respected all over the world.Also, it is no exaggeration to say that the unique technology and"manufacturing"of small and medium-sized firms, accounting for about 99% of Japanese companies, is the backbone of the world industry today.

Unfortunately, the rapidly growing Asian market is already ahead of Japan in cutting-edge fields like digital technology. In particular, in the fields of 5G, AI, and IoT, a future leading role in industry and society, there are already 120 tech corporations like newly-born unicorn companies (within 10 years of establishment and unlisted with an evaluation value of more than $1 billion) in Asia including China, India, Korea, Hong Kong, and Singapore in 2020, in addition to the giant IT companies represented by BATH. On the other hand, Japan has only one. Furthermore, one would-be such company after another is getting established. If we, Japanese companies, want to grow further for the future, we probably need to collaborate with these giant Asian IT companies and unicorn companies with our unique culture and unique technologies and "manufacturing"of small and medium-sized firms as mentioned above as our strengths.

We, the Japan International Economic Development Organization, are willing to get involved in the following activities as a "bridge" between Japan/Japanese companies and such global companies in Asia and other countries: forming various partnerships and alliances, creating new frameworks, systems, and measures, collecting and providing information on the international economy and industry, as well as promoting social contribution activities related to international economy and industry.




 Some of the companies that we have exclusive partnerships with are as follows: "iCLICK INTERACTIVE" (hereinafter "iCLICK"), centered on Hong Kong and operating around the world, was founded in 2009 and listed on the US NASDAQ in 2017. The company combines its unique AI technology, interactive digital marketing, and big data of nearly 1 billion people in Asia and has dominated the world with overwhelming marketing methods."iCLICK"has the technology to provide its customers with the right ads at the right time. For instance, with big date on gender, age, home, income and preferences, the company first distributes related advertisements at the time when potential tourists research using search engines on travel to Japan. It then delivers appropriate advertisements again at the time when they book flight tickets and reserve accommodation. When they enter Japan, their IP address changes from their home to the country. It then not only distributes related information and advertisements near the IP address to them, but also delivers travel-related information and advertisements to potential customers who may be interested in their travel experiences they share through SNS during trip and after.

"iFREE GROUP"is a telecommunications carrier comparable to "SoftBank" in Japan. The company has partnered with more than 60 telecommunications carriers in more than 150 countries around the world. The telecommunications business-based company has formed a huge fund of over 20 trillion yen and invested in all fields in addition to developing a unique business called "TRAVELUTION"combined "TRAVEL (Travel)"and "REVOLUTION (Revolution)".

A company called "SENSETIME"has its own high-precision sensor technology and face recognition technology. In cooperation with automakers the company has also developed autonomous driving technology and traffic infrastructure improvement such as traffic congestion, security field and smart city etc. to provide companies around the world with sensor technology in a newly developing field.

As you can see, there are still many unknown enterprises in the world. There are also companies in Japan that are not yet to be known on the globe. We would like to engage in bridging activities to introduce such overseas companies to Japan as well as introduce unique Japanese companies and cultures to the world.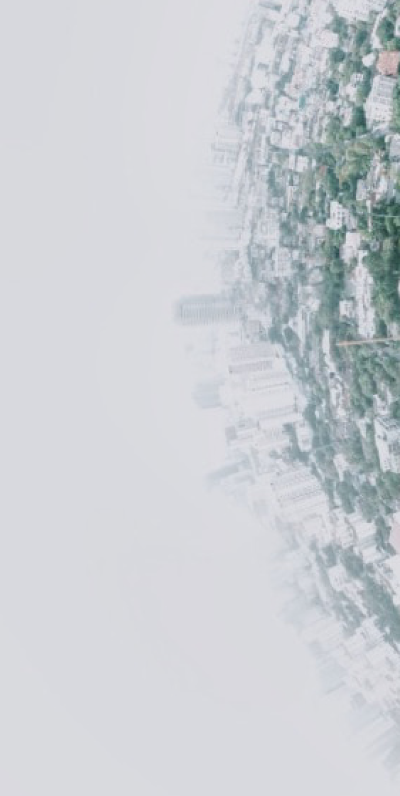 In the 2020s, 5G communication technology, which will begin full-scale operation, and digital technology such as AI and IoT combined, all industries and services will be reborn in a new combination with these new technologies centered on. This will change the way society exists so much as to be called the fourth industrial revolution. Also in Japan, Toyota Motor Corporation has declared a model change from a "automobile manufacturing company" to a "mobility company"(MaaS provider) that will provide all services related to "moving" of people around the world. Toyota's latest news has become a hot domestic topic. It is said that the full-scale operation of 5G, not limited to the automotive industry, will enable remote operation of construction machinery and telemedicine in the medical industry. Services that could not have been imagined until now will be newly created by the 5G operation.

Social innovation has already begun. Corporations are also transcending the existing frameworks and actively starting open innovation in cooperation with companies in the industries and business formats that they have never got involved before. Of course, instead of thinking of Japan as the only market, we must take a broader view including overseas and inbound, and introduce new technologies and innovative services from various overseas companies.

20 years ago, nobody predicted that GAFA would have grown what they are now. So aiming to be the winners of the next GAFA and the post fourth industrial revolution, new companies to create new services using 5G, AI and IoT may be born even in Japan. Tradition is born from a series of innovations. In other words, the Japanese industry will become a truly sustainable society in the future by continuing to innovate while taking risks without fear of changes with completely new perspectives, regardless of existing concepts, industries and services. We are virtually at the turning point now.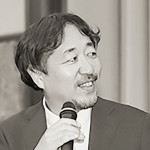 Representative Director
Hideki Sasaki
COLOR'S Inc
Chairman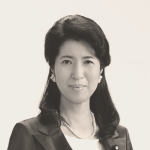 Honorary advisor
Michiko Ueno
Senior Vice Minister
of Education, Culture,
Sports, Science and
Technology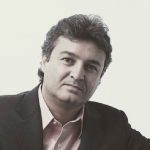 CSO Head of Europe and
North America Strategy
Fabrizio Giugiaro
GIUGIARO
ARCHITETTURA S.r.l.
Chairman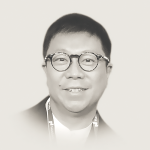 CSO Head of China and Asia Strategy
Robert Tran
Colletrix / UNDONE
Chairman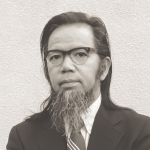 Director
Hakuo Kato
E.N.G Co., Ltd.
CEO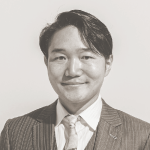 Advisor
Takeaki Higashiyama
Secretary to the Minister
Information technology
Science,technology and innovation
Space strategy, Cool Japan strategy
Cabinet Office

Name
Japan International Economic Development Organization(JIEDO)
Representative
Director
Hideki Sasaki
Location

Tokyo
6-3-14 , Minami Aoyama
Minato, Tokyo, 107-0062 Japan
+81-50-3734-0315
Osaka
Honmachi I.B.C Bld.3F, 4-5-7, Minamikyuhojimachi,
Cchuo-ku, Osaka-shi, Osaka, 541-0058 Japan
+81-6-6241-9200

URL
https://www.jiedo.org
E-MAIL
info@jiedo.org
Trading financial
institutions
Mizuho Bank, Ltd.
Business
description
Proposals and statement of opinions for the government and the related
organizations regarding systems and measures for international economy and industrial development investment.
Establishment and promotion of various measures necessary for sound
development of the international economic community.
Collection and provision of information on international economy and industry.
Dissemination and awareness raising about international investment and
international mutual economic and industrial development.
Consulting for international mutual economic and industrial development and international investment business.
Support for creating new business for the members.
Promotion of social contribution activities for international economy and
industry.
PRIVACY POLICY
Green Heritage Co., Ltd. (hereinafter referred to as the "Company") has established a personal information protection policy as described below, has established a mechanism for personal information protection, and has made all employees aware of the importance of personal information protection and efforts. By doing so, we will promote the protection of personal information.
Management of personal information
In order to keep the personal information of customers accurate and up-to-date and to prevent unauthorized access, loss, damage, falsification, leakage of personal information, etc., we maintain a security system, maintain a management system, and train employees. We will take necessary measures such as thoroughness, implement safety measures, and strictly manage personal information.
Purpose of use of personal information
The personal information entrusted to us by our customers will be used for sending e-mails and materials for contacting us, providing business guidance and answering questions.
Prohibition of disclosure and provision of personal information to third parties
We will properly manage personal information entrusted to us by our customers and will not disclose personal information to a third party unless any of the following cases apply.
・When there is customer consent
・When we disclose it to a contractor that we outsource to provide the service desired by the customer.
・When it is necessary to disclose in accordance with laws and regulations
Personal information security measures
We take all possible security measures to ensure the accuracy and safety of personal information.
Inquiry of the person
If the customer wishes to inquire, correct or delete his or her personal information, we will confirm the identity of the individual before handling.
Compliance and review of laws and regulations
We will comply with Japanese laws and regulations and other norms that apply to the personal information we hold, review the contents of this policy as appropriate, and strive to improve it.
Contact Us
For inquiries regarding our handling of personal information, please contact the following.
Green Heritage Co., Ltd.
2180 Yasuzawa, Yaita City, Tochigi Prefecture 329-1572 TEL. 0287-41-0058 (8:00-17:00)
Mail:info@jiedo.org